It was only recently when South Korean group BTS announced their highly awaited comeback with Map Of The Soul: 7. As the album is set to launch on February 21, their agency Big Hit Entertainment revealed that the countdown to the album will be divided into four phases. After the release of the comeback trailer 'Shadow' featuring the main rapper Suga, it was time to unveil 'Connect BTS'. BTS Army, their fans, have been wondering what was this about and how are they planning to move forward with it.
On Tuesday, the mystery behind 'Connect BTS' was unveiled in an elaborate way. The website explains, "CONNECT, BTS is a global project to connect five cities and 22 artists, each of whom contributes their unique philosophy and imagination to it. This project aims to redefine the relationships between art and music, the material and immaterial, artists and their audiences, artists and artists, and theory and practice. CONNECT, BTS may be described in terms of a collective curatorial practice by curators around the world who resonated with BTS's philosophy."
Kickstarting the project in London, this will be launched in Berlin, Buenos Aires, Seoul, and New York. The members – RM, Jin, Suga, J-Hope, Jimin, V and Jungkook, on Tuesday joined the media via a video call where they discussed the project and the importance of supporting the artists around the world. "I just became a fan of what they call fine art and visual art from last year, so I'm just a beginner," said the group's leader RM. "So currently my favourite hobby is to visit all the galleries and museums and see all the great pieces. It gives me a whole other world of thrill and shock and inspiration." "So this is basically a connection between techniques and nature and humans and nature of past, present and futures… Right?" he further said.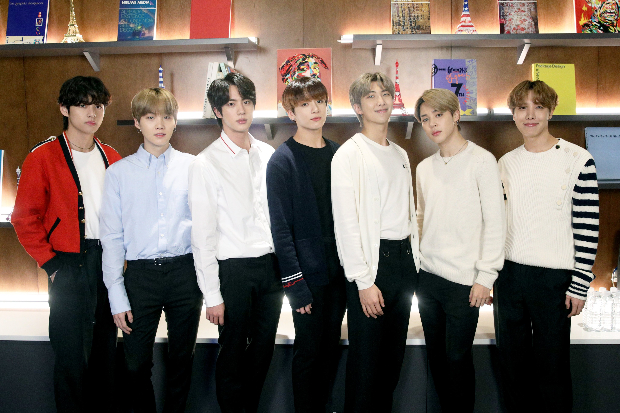 The other members also applauded the artist and their work. Jin, the eldest member of the group, said that the project is about celebrating the power of diversity and connecting with people and bring them together. Jimin said that it's an honour to be part of Connect BTS and connect with people around the world.  The youngest member of the group, Jungkook, revealed that they had contacted the artists via video call and got to know about how passionately they create their work which was very similar to how they (BTS) create music for the fans.
V, who himself is an art enthusiast, said that it has been a learning experience for them and hopes every Army gets to learn a lot through the project. Suga said that the band has always received immense love and support from fans. He said that it has always been very inspiring that music transcends language and barriers. He said that he's learnt the same through Connect BTS. J-Hope said that this was their way to showcase their love for Army and hoped that others will enjoy it too.
The project has begun in London with Danish artist Jakob Kudsk Steensen's work Catharsis. The exhibition began on January 14 and will go until March 6 at the Serpentine Gallery. They had also written a letter to Steensen which read, "BTS's letter to Steensen read, "Your participation helps complete CONNECT, BTS as a global project that engages artists and curators around the world to connect, share and exchange messages that resonate widely. As individuals, we come from diverse backgrounds, speak different languages, and have unique life experiences. Music and art may appear to be disparate worlds, but we are confident that this project will be an opportunity to appreciate diversity, develop a rapport, and reaffirm our shared message of positivity."
CONNECT, BTS, led by artistic director Lee Daehyung, is also an independent Korean curate who has previously organized his country's pavilion at the 2017 Venice Biennale. Daehyung, who has been listening to BTS for 4 to 5 years, said that the band has the power to connect with people around the world. "Some people say pop music and visual art is different but in terms of overarching art, in terms of multiple senses to get a proper understanding of the world… you really need an eye to see it a nose to smell it touch to carry the information we need to hear something," he said.
In all, 22 artists from around the world will showcase their work and their website will have special videos as the introduction of the artist from the band itself.
BTS is worldwide phenomenon but they've always encouraged and supported independent artists and musicians in any and every way possible. They often share which musicians they are listening to on social media. Not only that, the group's leader RM has been an art enthusiast himself. During his spare time, he often likes to visit art museums and galleries and appreciates their work. Even during their one month break, he chose to go on vacation with friends but made sure to enjoy artwork and visited a gallery as well.
Besides being the biggest band in the world, their music transcends all kinds of barriers. They speak about self-love, mental health, reveal personal stories through their music which resonates with the audience. Now, by promoting artists from around the world with diverse backgrounds, it can be said the South Korean septet is redefining not only music but giving a platform to artists whose work needs recognition around the world.