South Korean actress Jun Ji Hyun has turned 40 on October 30. The timeless beauty doesn't fail to amaze – be it on-screen or off-screen. Married to Choi Jun Hyuk, grandson of famed hanbok designer Lee Young Hee and the son of fashion designer Lee Jung Woo, the actress as a son and is one of the most in-demand celebrity endorsers and the highest paid actress in South Korea.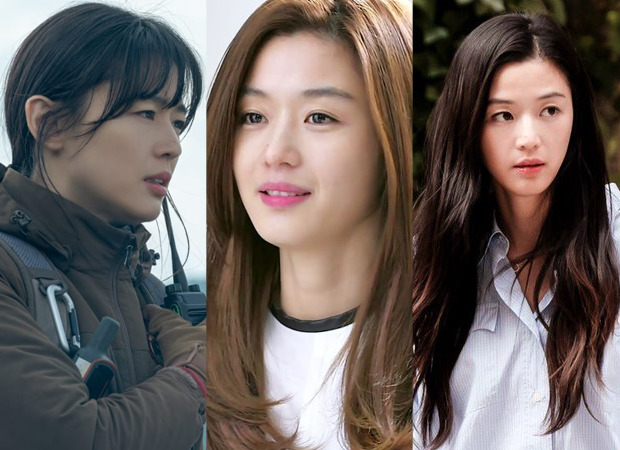 While the acclaimed actress has quite impressive portfolio with only six K-dramas in it, her movie titles are double that number with a stamp of phenomenal success. Her big-screen projects do not just win awards but also the hearts of many moviegoers. A handful of Jun Ji Hyun's flicks reeled in millions of viewers and are listed in South Korea's highest-grossing films of all time- The Thieves and Assassination.
On that note, here are the prominent works of the sensational actress to look out for when you need a little more of Gianna Jun:
JIRISAN
Jun Ji Hyun has made her much awaited comeback with the mystery-thriller Jirisan which is currently being aired in South Korea. Set against the backdrop of towering views of Mount Jiri, where rangers and other employees of the Jirisan National Park climb through the mysterious and unexplored regions of the mountain, trying to rescue the survivors and lost trekkers. Seo Yi Kang (Jun Ji Hyun) is the park's top ranger who has vast experience in navigation, making her knowledgeable when it comes to tracking down lost individuals. The drama is centered on a mystery surrounding the mountain's many visitors; those who come to kill, and those who come to end their lives. It's also worth mentioning that Ju Ji Hoon, her current co-star in Jirisan, has also appeared in Kingdom (where she made a special cameo in season two and led its special episode, Kingdom Ashin Of The North).
LEGEND OF THE BLUE SEA
The fantasy rom-com marks the actress' first drama after giving birth to her first child. Co-starring Lee Min Ho, the story is inspired by a historical tale about a mermaid contained in a short story anthology. The drama is basically how a mermaid from the Joseon era survives in modern society while she follows her one true love, a nobleman's son named Kim Ryung from the Joseon Dynasty, to modern-day Seoul but encounters Ryung's modern doppelgänger Heo Joon Jae, a highly skilled scam artist who first becomes interested in Shim Chung because of a jade bracelet worth $6 million that Shim Chung wears.
MY LOVE FROM THE STAR
The iconic character in K-dramaland, Jun Ji Hyun as Cheon Song Yi, gained the actress more followers internationally. The fantasy rom-com co-stars Kim So Hyun as Do Min Joon, an alien who landed on Earth 400 years ago during the Joseon dynasty period. He possesses a near perfect appearance and enhanced physical abilities involving his vision, hearing and speed. Later, he discovers that he has three months left on Earth. And that is when he meets Cheon Song Yi, the biggest Hallyu star in Korea (which she is in real life as well). Ji Hyun also won the Daesang (Grand Prize) at the esteemed 50th Baeksang Arts Awards for her role, and was given the President's Award for this series. My Love From The Star was not only a sensation in the Korean wave but also was a cultural reset across the world. The food pairing chimaek (chicken and beer) started a food craze; the drama's filming locations were frequented by tourists; and on top of that, the YSL lipstick that Ji Hyun wore in a scene caused a shortage. OMO.
ASSASSINATION
The 2015 historical crime drama film is one of the notable works of the actress. Set during the Japanese occupation, an agent tasked to assemble a group to assassinate a Japanese commander and a Korean collaborator by extricating three prisoners from Shanghai. However, the Japanese are tipped off, and a notorious hired gun is sent to take out the assassins first. The film is also one of the highest grossing films of all-time of South Korea.
THIEVES
ond necklace from a heavily-guarded casino safe in Macau. As the cops close in, old betrayals and misunderstandings resurface. The Thieves also marks Ji Hyun and Kim Soo Hyun's first project together prior to My Love From The Star.
THE BERLIN FILE
A 2013-action thriller where a tense illegal arms deal in a Berlin hotel suddenly descends into mayhem after a "ghost" agent named Jong Sung appears on the scene. Secretly watching the deal go down is embattled South Korean intelligence chief Jin Soo, the North Koreans and the CIA, who are all left trying to decide whether the ghost is a double-agent or taking the fall for a more insidious plot. Myung Soo a young, notorious North Korean agent jumps into these treacherous waters to investigate loyalties of all involved and begins to implicate Jong Sung's wife, Jung Hee (Jun Ji Hyun), a translator at the North Korean embassy in the German capital. Caught between his love of country and his wife, Jong Sung must quickly prepare to make the ultimate sacrifice.
MY SASSY GIRL
One of the highest-grossing Korean comedies of all time, Jun Ji Hyun's best known role as "The Girl" in the romantic comedy My Sassy Girl is based on Gyun Woo is a college student, more interested in picking up girls, drinking with his buddies and avoiding his nagging mother whenever possible. While riding the subway, a drunken girl then changes his fate forever. She's nearly unconscious on the train and vomits on an older guy. She then leans over to Gyun Woo and everybody assumes she is his girlfriend! Gyun Woo soon finds himself in a relationship he didn't ask for, but soon unable to forget this sassy girl. This is the first movie of the My Sassy Girl trilogy by director/screenwriter Kwak Jae Young. The second is the 2004 film Windstruck. The third is the 2008 Japanese film Cyborg She. They are unrelated except for having a sassy girl theme. Jun Ji Hyun is prominent for her award-winning films like My Sassy Girl, where she received the Best Actress trophy at the 39th Grand Bell Awards.
II MARE
The sci-fi romance film where Sung Hyun, who just moved into 'Il Mare' receives a strange letter. The letter is from a young woman in the year 1999, two years from the present. Her predictions about the past are amazingly accurate. Her warning about a flurry of snow on a certain day in January of 1998 and the ensuing flu virus turns out to be true. Eun Joo (Jun Ji Hyun) is convinced that her letter has travelled back in time to December of 1997 and starts writing regularly to her newfound pen pal. A professional voice actor, Eun Joo asks Sung Hyun to find her long-lost cassette recorder at a train station. Sung Hyun goes to the train station and gets a glimpse of Eun Joo, who of course, has no idea who he is.
WINDSTRUCK
This is the second of the My Sassy Girl trilogy by director-screenwriter Kwak Jae Young where Kyung Jin (Jun Ji Hyun), a police officer, on her day off, is forced back on duty when she is caught chasing down a bag-snatcher. The "bag-snatcher" turns out to be Myung Woo, a passer-by who was trying to catch the actual criminal. With a twist of fate, the two are paired together after Myung Woo volunteers to be on patrol looking out for unruly students.
Also Read: Jun Ji Hyun and Ju Ji Hoon's Jirisan offers an abundance of mystery, mountains and cliffhangers