South Korean 'It' group TOMORROW X TOGETHER (Soobin, Yeonjun, Beomgyu, Taehyun, Huening Kai) are set to return on August 17 with their trendy new title 'LO$ER=LO♡ER' from the repackaged album The Chaos Chapter: FIGHT OR ESCAPE. The group unveiled the official teaser of the music video.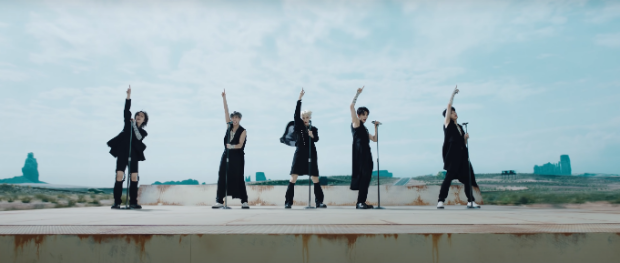 In the video teaser, the five members pick either the title of lover or loser. The pop-rock track begins with the quintet dressed in all black singing "I'm a loser". Soobin is seen running away from a diner with a friend, Yeonjun is driving; Taehyun seems to be at skating ground, Huening Kai is escaping from someone; Beomgyu falls from a bicycle and is bruised.
The new title, 'LO$ER=LO♡ER' (read "loser lover"), is a catchy emo pop-punk track that expresses a real-world "loser's" desire to be a hero and "lover" to his one-and-only. He may have failed in the eyes of the world, but 'you' awaken his courage to take his fate into his own hands. He must now make a choice: to FIGHT or to ESCAPE together with you. Through its catchy musical melodies, the song provides a Gen Z perspective on the realities of the world. With its messages of youth and desire, 'LO$ER=LO♡ER' is a young one's love song sure to resonate with Gen Z everywhere, and with all those who are still youth at heart.
'LO$ER=LO♡ER' credits globally renowned names such as songwriter Billy Walsh (credited in works with Justin Bieber and The Weeknd) and producer Louis Bell (credited in works with Post Malone, Camila Cabello, 5 Seconds Of Summer, Selena Gomez, and Taylor Swift). Yeonjun participated in the track as well. Slow Rabbit, 'hitman' Bang are also credited among others.
TOMORROW X TOGETHER charted their previous album at No.5 on the Billboard 200 where it has remained in the chart for eight consecutive weeks to date, and its English track 'Magic' became the N. 1 Most Added on Mediabase Top 40 Add Board on June 1.