South Korean group Tomorrow X Together comprising Soobin, Yeonjun, Beomgyu, Taehyun, and Huening Kai are gearing up for the release of their upcoming second studio album, 'The Chaos Chapter: FREEZE'. After a series of concept photos and trailer, tracklist, and the album preview, the first teaser of the upcoming single '0X1=LOVE SONG (I Know I Love You)' featuring Seori is here.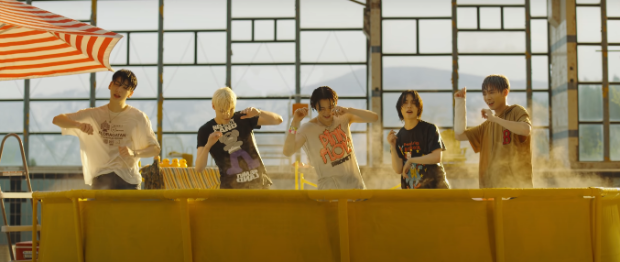 On May 28 (May 29, midnight KST), TXT has dropped the teaser of the lead track. In the teaser, Yeonjun is seen dancing in his house and well, just vibing at night. It seems like an ode to the 1990 romance drama Days of Being Wild. The Hong Kong drama film directed by Wong Kar-wai had the exact same dance scene starring Leslie Cheung. The instrumental is sampled from 'Maria Elena' by Xavier Cugat, who was a Spanish musician and bandleader who spent his formative years in Havana, Cuba. 
The scene cuts to where he joins Soobin, Beomgyu, Taehyun, and Huening Kai on a bright sunny day to have just a 'boys day out'. The swimming pool is empty so they are using inflatable tubs and enjoy the summer weather in the water. They croon, "Say you love me, say you love me / Till the ends of the world / All or nothing, I want all of it / I know I love you."
The song is the unequivocal declaration of a boy's first love. The song expresses a boy's certainty in the love he feels for 'you,' who came to him in a world of chaos. The title uses numbers to visually represent that in this world of zero (0), 'you' are my one (1) and only. The song is the collaborative effort between producers of HYBE Labels' Slow Rabbit and "hitman" bang, American singer-songwriter and Rock Hip hop artist Mod Sun and No Love For The Middle Child as songwriters, and RM of BTS who helped pen the lyrics.
The album is set for release on May 31.