After a successful season of some of the top Bollywood stars trying their hands in the kitchen, discovery+ has kick-started the second season of Star Vs Food. The first season saw the likes of Karan Johar, Kareena Kapoor Khan, Malaika Arora, Arjun Kapoor, and Pratik Gandhi grace the show and cook for their loved ones. While the new season was kickstarted by Janhvi Kapoor and followed by the likes of Anil Kapoor and Ananya Panday, now it's the turn of the Bollywood sensation Nora Fatehi.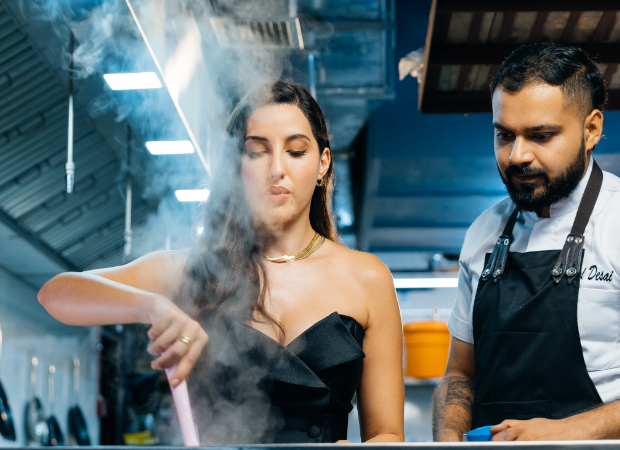 PREPARING THE MENU-
Nora Fatehi who has impressed people with her killer dance moves and her impressive fashion sense, took up the challenge to impress with her culinary skills. Nora under the guidance of Chef Rahul Desai, Executive Chef at Blah in Mumbai, revisited her traditional roots of Moroccan food. Talking about why she decided to cook Moroccan dishes to treat her friends, she said, "Mainly because I am Morrocan and not a lot of people cook Moroccan in India. It's an acquired flavour. But once you taste Moroccan you can never go back. Also because my dad is a chef and not a lot of people know about that." With this, the chef and Nora decided on preparing the traditional Chicken Olive Tagine, and Lamb Harira Soup.
A very confident Nora enters the kitchen with the hope to put her culinary skills to the test that she developed over the last few years on her own.
COOKING STAGE-
Nora Fatehi looks stunning as ever dressed in an off-shoulder black gown, looking all ready and enthusiastic to take over the kitchen. They first start working on the Harira and Nora's first task is to chop the onions. Nora was a little intimated by the size of the knife and expressed worry about chopping off her fingers and joked that she really needed them to be intact for her upcoming music videos. While she gets into the flow of chopping, she also recalls her waitressing days. "I was 16, 17, 18 on and off I was waitressing and it's very difficult to be a waitress. You have to have communication skills, personality, you have to be fast, you have to have a good memory and sometimes customers can be mean so you have to be able to handle situations. But it was a side hustle, it was a way to make money on the side and I think it is a culture we have in Canada like everybody has jobs, you go to school and work at the same time."
ALL ABOUT FOOD!!
Nora admitted that she is a big foodie and being in a multi-cultural city in Canada only exposed her to various cuisines. When asked about her meals at her home, Nora revealed, "Because I was born and raised in Canada, it was a very cosmopolitan city very multicultural. I have friends from different parts of the world and we are so heavily influenced by different cultures be it Indian, Somalian, Kenyan, Caribbean, Italian, we cooked everything at home. My mom specialized in Moroccan so on Friday's we would have Couscous, on Sundays we have Tagine, and in the week she would mix it up and have spaghetti, Bolognese and she'll try all these different recipes and sometimes we have tried Middle Eastern food as well".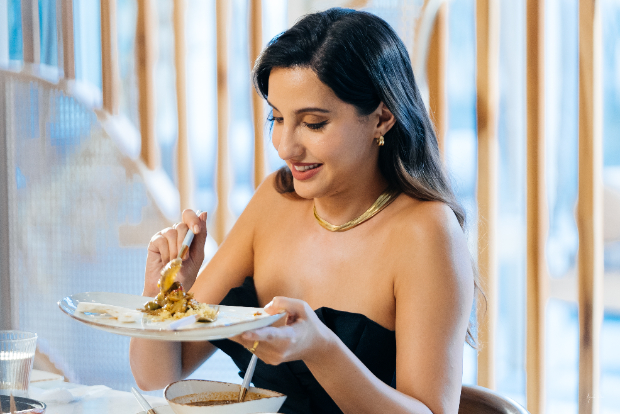 NORA ON THE CULTURE OF PUTTING ON WEIGHT-
While Nora is self admittedly a big foodie and has grown up in a house with lots of food, the actress still manages to keep herself fit. When the chef asked her how she manages to stay fit despite her love for all things food, she said, "I come from a culture where skinny is not good. So we really love thickness and curviness in female bodies. So for me, I am always trying to be thick and curvy and put on weight that's the cultural mentality that we have. SO that why we constantly eat a lot".
QUESTIONING THE CHEF-
Nora claims to know all about Moroccan food and goes ahead to check if the chef has all the spices required to prepare the Harira making a checklist for the chef. The chef later decides to check Nora's skill by challenging her to correctly fetch all the ingredients required for the Harira, Surprisingly, she fails. Nora says that she was thrown off by the challenge and was not prepared at all. Nora also brings in her charm and humour into the kitchen making the episode an exciting watch.
TAGINE TIME-
Nora starts preparing her final dish which is the Chicken Olive Tagine. This is where Nora and Rahul have differences in opinion on how the dish should look and on the quantities of the ingredients, especially the spices. Nora is reluctant to add too many spices while Rahul likes it the desi way with a lot of spices to bring in the flavour and colour. Nora even goes ahead and says, "Putting mirchi in Harira was a traumatic moment".
LEARNING HINDI-
Nora also spoke about her knack for picking up languages. "I did learn to read and write in Arabic when I was younger in Canada in Sunday Schools. But then when I was a teenager I moved to Saudi Arabia for 2 years and people there didn't understand our language- Derija. So I had to learn their Arabic which was very hard for me at that time. But I learned it," she said.
"I didn't know Hindi at all right. But all my friends know Hindi because they watched Bollywood films and picked it from films. But when I came I was more scared and traumatized because I knew I had a small amount of time to learn and I had to learn fast. I think that was the most difficult part, to learn it was not hard in terms of learning. I really enjoyed learning it and I was hungry to learn and be able to speak to people and impress people," she added.
THE KITCHEN MOVE-
How can Nora come on a show and not show one of her stunning dance moves? When the chef requested her to show the audience some of her dance moves, Nora sportingly agreed and also got the chef to shake his leg. Nora took a pan to use as a prop and did a dance step that the chef also tried to follow.
The dishes were ready. While Nora was all praise for Rahul, the chef also complimented her skills, he said that if she spends some more time in the kitchen she has a backup career option as a chef.
TASTE TIME-
Nora had invited her friend Marce Pedrozo and musician Badshah to try the food prepared by her and give their verdict. Before the two tasted the food, Nora joked, "When I was in the kitchen I shocked the chef. He left his job". The two were supremely impressed by Nora's culinary skills and had no complaints.
Star Vs Food featuring Nora Fatehi will be premiered on discovery+ on October 6.
ALSO READ: Star Vs Food: From struggling to mix to learning to set up the oven, Ananya Panday impresses the chef with her beginner-level skill in baking