Following the path of multiple releases this year, South Korean group SEVENTEEN members have dropped a new track! After announcing their comeback album on May 18, members Wonwoo and Mingyu have released a digital single 'Bittersweet' in collaboration with popular singer Lee Hi.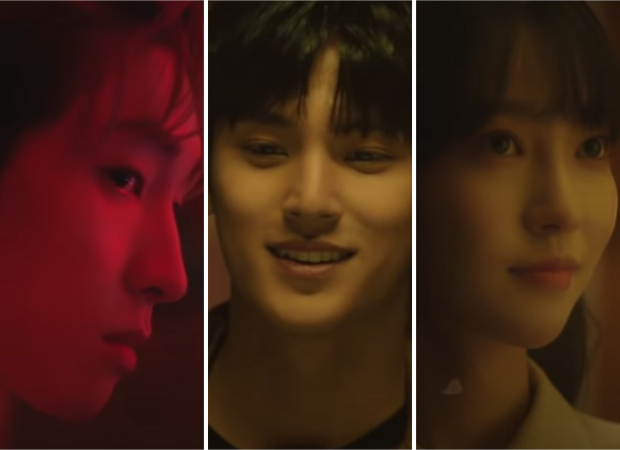 The music video opens with Wonwoo and Mingyu reminiscing the moments with Lee Hi. The scene cuts to all three of them running on the streets, carefree and living in the moment. From dinner dates to drinks, the three of them spend time together and separately while they can't stop themselves from falling in love. The song 'Bittersweet' expresses the conflict between the sweetness of newly-discovered love and the sting of friendship among a group of three longtime friends by tracing the delicate trails of emotion to the place where they cross. The dilemma to chose friendship or love is what the storyline is all about.
Mingyu expresses his emotions, "I get close, it goes farther / Sorry I can't get closer / I'm sorry I'm like this umm, umm / One you and two moons."
Wonwoo reflects on hiding his love, "Hiding the truth, pretending I'm fine / I'm hiding in the rain always smiling / Woo I want an answer / That I don't think I can find / I want the next thing."
Lee Hi acknowledges it, "But anything, nothing / Is like the heart of a person / Eyes meeting but hearts apart / So sweet and so bitter."
The song was co-written by Wonwoo and Mingyu along with Buzmu and Yoonkyung Jo who illustrated  the dilemma "between love and friendship." The song has soothing guitar riffs with the beautiful sound of bass. The ballad brings out the emotional conflict they are facing. While they are rappers of SEVENTEEN, the two of them deep dive into this soulful genre beautifully. Featuring in the song with her unrivaled vocal timbre is artist Lee Hi who adds a sense of maturity to Wonwoo and Mingyu's masculine vocals.
With 'Bittersweet', Wonwoo and Mingyu, the rappers from SEVENTEEN, are kicking off the group's 2021 project Power of 'Love'. With their project, SEVENTEEN plans to fill the year with the sensation of honest but radiant love by singing about all the love we might encounter at different moments throughout our lives.
SEVENTEEN will make their comeback on June 18 with their eighth mini-album 'Your Choice.' The animated concept trailer was unveiled on May 18. Meanwhile, the group's members Hoshi and The8 released their solo work earlier in April. The South Korean group dropped their third Japanese single titled 'Not Alone' or 'ひとりじゃない' (Hitorijanai). The single pre-released on the music platforms on April 15, 2021, and the music video released on April 18, 2021.