Singer-actor-producer and now entrepreneur Selena Gomez is a multi-talented personality. Back in 2020, along with the release of her album 'Rare', Selena Gomez launched her own makeup line Rare Beauty. The main aim of this beauty line was related to that of mental health and being comfortable in your own skin. Focusing on this aspect, Selena Gomez always supports mental health and encourages one to create a safer and a better environment.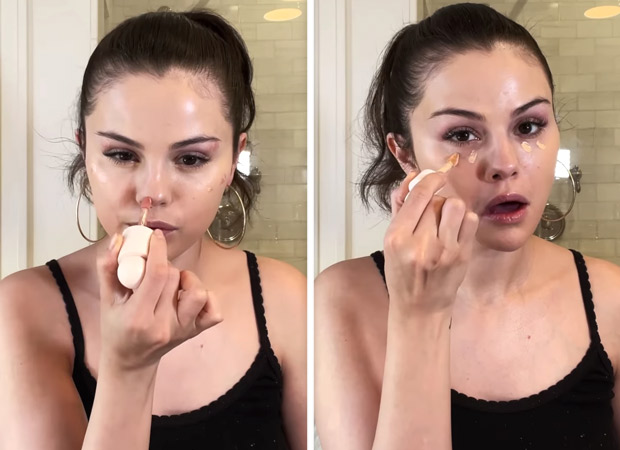 Selena Gomez is active on creating her makeup line better; being active on all social platforms, giving up tricks and tutorials how to ace perfect makeup looks. The actress leaves no chance to interact with her fans and again she back with sharing a beauty tutorials on how to get a dewy makeup look on for any outings and parties.
Using all things Rare Beauty, the singer started off with her all time favourite Always an Optimist Illuminating Primer to prep and moisturise the skin before starting off with the foundation as it's "super weightless and it gives beautiful lift from within" she said. After that, she then went for her Liquid Touch Weightless foundation and blended it perfectly with the foundation brush. Moving on with the concealer, she then applied underneath her eyes and some near the nose area for extra coverage after blending it away.
Now to something a new try of which Rare Beauty launched is Positive Light Liquid Luminizer in 'mesmerize' which is this really beautiful bronze shade. She applied in on her cheekbones, brow bone and her nosebone and she said that this gives such a pretty dewy look.
To complete her look, Selena Gomez went with Stay Vulnerable Melting Blush in "Nearly Neutral" which she was really excited to use. She said "it melts to my skin and all day long" and she is obsessed with the product. Carrying it forward to the eyes, she used Brows Harmony Pencil &Gel in "Deep Brown" and did small soft strokes to do her eyebrows.
Now to complete the look, she went for a Gratitude Dewy Lip Balm in the shade "Empathy" talking about the formula she stated 'that it is so hydrating and nourishing that it feels like cloud on your lips'. Lastly, she used Always an Optimist 4-in-1 Mist and there she was all done with nice glow dewy makeup look.
 

View this post on Instagram

 
Meanwhile, Selena Gomez is currently shooting for Only Murders In the Building alongside Martin Short and Steve Martin. She will serve as an executive producer for the Huli series. She is currently starring in Selena+Chef, an HBO MAX series. The songtress will now return as the lead actress in Hotel Transylvania 4. She has also turned the executive producer of the film.
The actress will be starring as Peruvian mountaineer Silvia Vásquez-Lavado in an upcoming film. The film will be based on the latter's upcoming memoir "In the Shadow of the Mountain." Little Birds writer-director Elgin James will pen and helm the film.