South Korean drama Yumi Cells starring Kim Go Eun and Ahn Bo Hyun is based on famous webtoon of the same name. Goblin fame actress will be seen playing Yumi while Bo Hyun will stars as Goo Woong.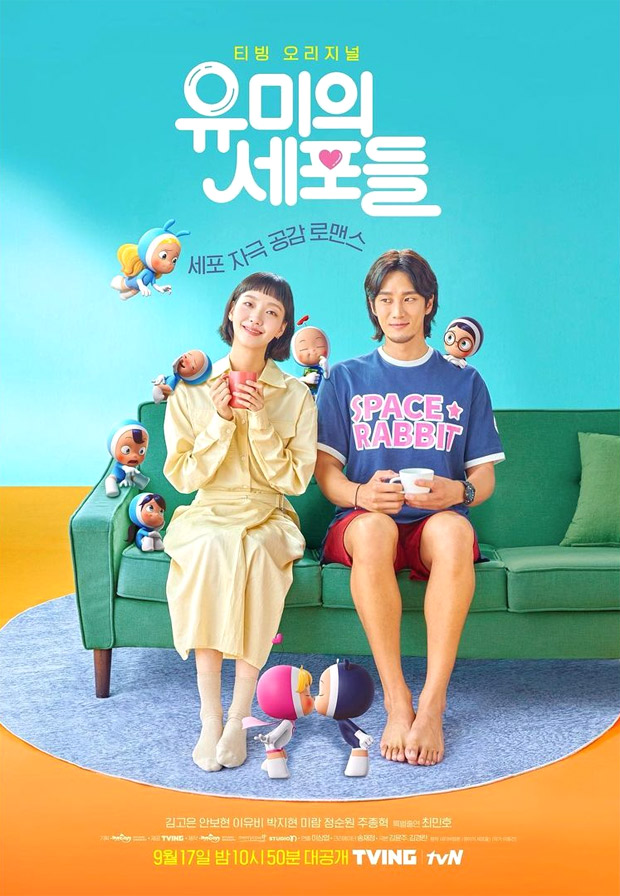 The story is about an ordinary office worker named Yumi, told from the perspective of the brain cells in her head controlling her thoughts, feelings, and actions.  Lee Yoo Bi as Ruby, Park Ji Hyun as Sae Yi, and GOT7's Jinyoung as Yoo Babi will also been sharing screen in the drama. SHINee's Minho will also be possibly making a special appearance as Woo Gi.
Yumi's Cells will be premiering in September. It is directed by Lee Sang Yeob, the director of Familiar Wife, W and Memories of the Alhambra writer Song Jae Jung has participated as a creator. The drama is co-written by Find Me in Your Memory writer Kim Yoon Joo and newcomer Kim Kyung Ran.
In recently released poster, Yumi and Goo Woong can be seen sitting on the sofa side-by-side. The text above them reads, "Cell-stimulating relatable romance. "Surrounding them are the emotional cell, anxiety cell, naughty cell, hungry cell, love cell and rational cells.
 

View this post on Instagram

 
Kim Go Eun and Ahn Bo Hyun helped in curating the poster for the drama. They picked the cells as the point that sets Yumi's Cells apart from other dramas.
According to Soompi, Kim Go Eun said, "Yumi is ordinary, but she seems like a lucky person who has special [beings] on her side. The cells who always encourage Yumi and put their heads together without rest so that Yumi can be pleased and happy give me hopeful thoughts. "
Ahn Bo Hyun said, "I'm also curious and anticipating what kind of drama will be born through 'Yumi's Cells,' which combines reality and animation. Each of Goo Woong's cells is unique, so I'm anticipating how those friends will be pictured in the drama and what kind of synergy they'll show with Goo Woong."
Yumi's Cells will be airing on September 17 at 10:50 p.m. KST on tvN. It will be made available with English subtitles on Viki.
Also Read: SF9's Rowoon and Park Eun Bin's upcoming drama Yeonmo's shoot halted amid fire accident