Khatron Ke Khiladi 11, the adventurous stunt-based reality show, is all set to premiere this July. Even way before its premiere, the show has managed to grab headlines. The filming for the show has already begun and the contestants flew to Cape Town on May 7. Well, it's been almost a month since the contestants have been having gala time together. Looking at their Instagram feeds, it is clearly visible that they have got along very well with each other. It wouldn't be wrong to say that the contestants are having their best time out there. This time the show features some of the most popular celebrities of Telly Town including Arjun Bijlani, Anushka Sen, Divyanka Tripathi, Shweta Tiwari, Anushka Sen and others. There have been old as well as various news friendships in the show that have become the talk of the town.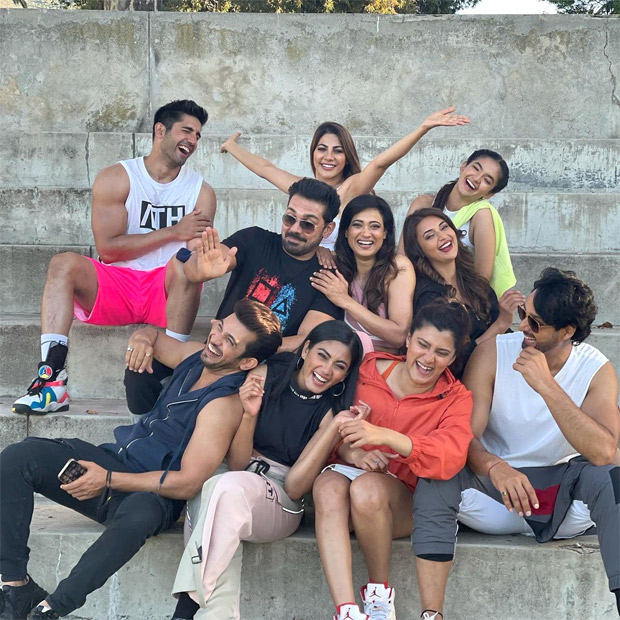 Let's have a look at some of the friendships of Khatron Ke Khiladi 11 and how these celebs have been embracing them:
Abhinav Shukla and Rahul Vaidya's journey from being foes to buddies
The friendship that became the major highlight of the season was of Bigg Boss 14 contestants Rahul Vaidya and Abhinav. The duo locked horns during the show and never got along well with each other. Fans of the two were wondering if they will carry their fight to the new show or turn over a new leaf. But now things seem to be pretty sorted between the two as recently, a video of Abhinav and Rahul bonding in Cape Town has gone viral where Abhinav was seen clicking Rahul's pictures on one of the stunt locations.
 

View this post on Instagram

 
Anushka Sen and Rahul Vaidya the new BFFs
Apart from solving his rivalry with Abhinav Shukla, singer Rahul Vaidya has also established a very good bond with the youngest contestant Anushka Sen. The duo has been seen clicking a lot of pictures and making Instagram reel videos together. In one of the videos shared by both Rahul and Anushka, they were seen grooving to the song 'Lut Gaye'. A few days ago, the duo also made a romantic reel on Rahul's new song 'Aly'.
 

View this post on Instagram

 
 

View this post on Instagram

 
 

View this post on Instagram

 
 

View this post on Instagram

 
Everybody's favourite is Arjun Bijlani
Arjun is one such contestant in the show who has managed to win everyone's heart. The popular actor's bonding can be seen with everyone in the show. His Instagram feed and stories have been flooded with his fun moments and goofy pictures with his co-contestants. The actor has been called a poser by his co-contestants. Recently, the actor also shared a picture with Nikki Tamboli and Sana Makbul where the beautiful girls were seen giving him a kiss on his cheeks. Apart from them, the actor also posed with singer Aastha Gill where the duo seems to be in a complete crazy mood. Arjun was also seen having a great time with Divyanka Tripathi, Shweta Tiwari and Mahek Chahal. Well, Arjun has even got on good terms with little Anushka Sen and the boy gang including Abhinav Shukla, Varun Sood, Vishal Aditya Singh and Rahul Vaidya.
 

View this post on Instagram

 
 

View this post on Instagram

 
 

View this post on Instagram

 
 

View this post on Instagram

 
Abhinav Shukla – the photographer
Well, they say never lose a friend who has good photography skills. Abhinav Shukla has aced his photography skills and proved to be everyone's true friend in the show. The actor's great photography skills have made the Instagram feeds of his co-contestants so fancy. Apart from performing daredevil stunts and facing his fears, he has spent most of his time filming amazing photographs and videos of the contestants in the best possible ways. He even shot a stunning BTS video of Shweta Tiwari.
 

View this post on Instagram

 
 

View this post on Instagram

 
Abhinav, Nikki and Aastha – the new trio in the town
Abhinav has been having a blast time in Cape Town as he reunited with his good friend Nikki Tamboli in the show. Nikki and Abhinav's friendship dates back to Bigg Boss 14 days. The duo has been seen spending most of their spare time together. However, the duo has now become a trio as they are always accompanied by singer Aastha Gill. Well, bubbly girl, Aastha has managed to match her vibe with the two and they are often seen together posing for the camera.
 

View this post on Instagram

 
 

View this post on Instagram

 
Shweta Tiwari's reunion with ex co-stars Vishal Aditya Singh and Anushka Sen
The season has become successful in bringing yet another reunion. Shweta Tiwari's happiness was clearly outbursting on her face as she reunites with her Baal Veer co-star Anushka Sen and Begusarai co-star Vishal Aditya Singh. The reunion has proved to be a great part of the show as all of them are have got a chance to spend some quality and gala time together after a long break. Shweta has often posed in some goofy and wicky photos with both Anushka and Vishal.
 

View this post on Instagram

 
 

View this post on Instagram

 
Vishal Aditya Singh's bond with Divyanka Tripathi and Varun Sood
In the show, although Vishal has bonded with everyone, but the ones with whom he is sharing a really special and great bond are Varun Sood and Divyanka Tripathi. Vishal and Varun have been seen most of the time together, seems like the boys have really liked each other's company. Meanwhile, Vishal's bond with Divyanka is also very noticeable as he calls her 'constant support' many times. Vishal has also managed to get some really cool pictures with both Varun and Divyanka.
Well, also the contestants are leaving no stone unturned to have fun while in the group. Let's also have a look at some real fun time moments of the contestants.
 

View this post on Instagram

 
 

View this post on Instagram

 
 

View this post on Instagram

 
Also Read: Khatron Ke Khiladi 11: Shweta Tiwari flaunts her desi avatar in Cape Town; aces colour blocking in green and pink suit