Even as the pandemic continues to cast its shadow of stress, Zee TV is making an attempt to lighten up the country's collective mood by offering its viewers an escape from all the stress via the route of rib-tickling comedy through its upcoming reality show, Zee Comedy Show. While the first episode helped every Indian family unwind on their couch with some of India's top comedians making them LOL their stress away, this weekend, we will see Riteish Deshmukh make us ROFL with his hilarious antics. The Bollywood star along with wifey Genelia Deshmukh were special guests on the show, but they weren't the only guests present on the set! This weekend, Zee Comedy Show also decided to deliver a much-needed dose of laughter to the ones who need it the most – the Mumbai Dabbawallas who were hit very hard during the COVID – 19 pandemic.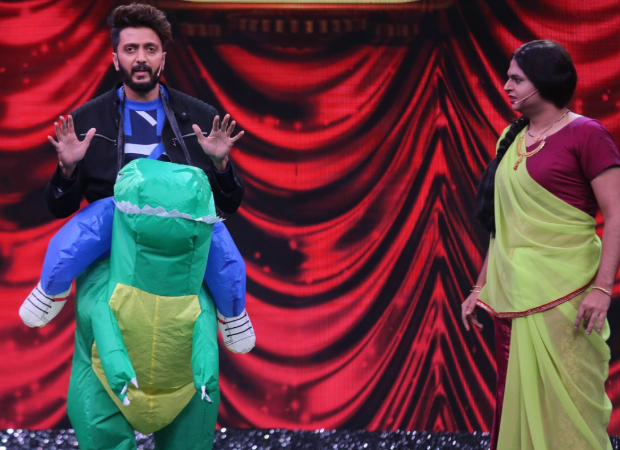 With eleven comedians of the show – Ali Asgar, Sugandha Mishra Bhosale, Dr. Sanket Bhosale, Gaurav Dubey, Ballraaj, Siddharth Sagar, Divyansh Dwivedi, Tejasswi Prakash, Chitrashi Rawat, Aditya Narayan and Punit J. Pathak performing some hilarious acts and the Laughing Buddha of the show, Farah Khan leaving them in splits with her witty reactions, the hardworking Dabbawallas were seen unwinding in a #HasiOnStressGone mood! However, to make the experience even more entertaining, Riteish Deshmukh got his acting shoes on and performed two acts with Siddharth Sagar, and we have to say, everyone was holding their stomach and laughing during the shoot.
Riteish appeared to be sitting on top of an inflated Dinosaur costume during the first act and Siddharth Sagar, acting as a female choreographer, tried to teach Riteish's dinosaur how to dance during the shoot. While the comedy that followed was truly out of this world, it was the next act that really left everyone on set stunned. After Siddharth's phenomenal act on a sloped set with Punit J Pathak and BallRaaj, Riteish tried his hands at performing a dance with Siddharth on the sloped set as well. While the two danced while falling on top of each other, their electric chemistry and passionate role play on the song Lahu Munh Laga Gaya will surely leave the viewers speechless.
In fact, Genelia was also stunned! Post the act, she said, "I've never seen this passionate side of Riteish myself (laughs)." Adding on to her comment, Farah said, "Genelia, you'll have to add a slope at your house to see this side of Riteish."
While Riteish, Genelia and Farah's banter is all set to entertain the audiences, do not miss the comic acts by all the artistes of Zee Comedy Show during this weekend's episode.
ALSO READ: Genelia celebrates her 34th birthday with kids and husband Riteish Deshmukh