The rookie Korean pop group ENHYPEN is ready to make its first comeback. The 4th generation group consists of seven multinational members Jungwon, Heesung, Jay, Jake, Sunghoon, Sunoo, and Ni-ki. After making their debut with the album 'Border: Day One', the group is set for their first release since their debut called 'Border: Carnival'.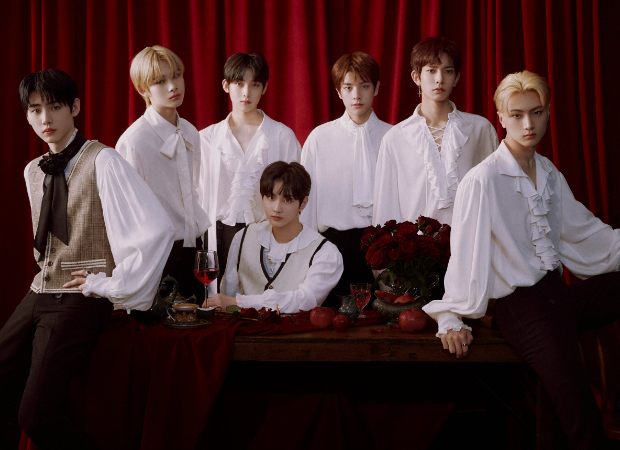 The introduction video was unveiled on April 5, midnight KST. Titled 'Intro: The Invitation', it starts with an animation of a letter as it opens and you witness someone is walking towards a castle as you see glimpses of bats. There are multiple Carnival ornaments as the black and white video turns into multiple colours. This is when you hear the music and lyrics "Yeah, feel like I'm in a Paradise" which could be the track in the album. There's a special depiction of the pink moon which interestingly will appear on the night of Monday, April 26, and be visible through Tuesday, April 27. The pink moon signifies rebirth and renewal.
This is when you hear Jake's voice saying, "Purchasing pleasures in selling hours of dross. Here in the land of rebel powers gloriously decorated. An invitation called to us from the carnival of the dazzling night. So we beat on the door of this flipped world brought here by fate. Whether the harvest feast of light or a festival of blood time harmonizes laughs and screams. Death once dead, there's no dying then. So we gladly swallow time like it's our last breath." Interestingly, it seems like the introduction video draws inspiration from William Shakespeare's Sonnets 146.
Once again you hear, "Yeah, feel like I'm in a Paradise" before you hear the voiceover saying, "A dizzying flicker, a light that blinds and deceives. And from the great beyond that voice rings out again. Here, come inside the castle, take everything."
In the first album, the boys experienced complex emotions in the midst of connecting, discovering, and growing together at the border into the unknown and their strong resolution to overcome this is illustrated through the two visual concepts for this album 'DAWN' and 'DUSK'. It seems like in the follow-up album, according to the voiceovers, it seems like the boys talk about the evitable fate, challenges and set the soul free of the bonds.
ENHYPEN is the first boyband created by Belift Lab, a joint venture between Big Hit Entertainment and CJ ENM. They were the finalists of the global music competition show I-Land, which finished airing in September 2020. Similar to the 'hyphen(-)' that connects one word to another, ENHYPEN means that seven different boys connect to discover one another and grow together. It also indicates their ambitious plan to connect people and the world through their music.
The debut album 'Border: Day One' comprised of six tracks overarching various topics including 'Intro: Walk the Line', lead single 'Given-Taken', 'Let Me In (20 CUBE)', '10 Months', 'Flicker', and 'Outro: Cross the Line'.