After much anticipation regarding the second English single 'Butter', BTS dropped the anticipated music video on May 21, 2021. After topping the charts last year with their first one 'Dynamite' followed by their Korean single 'Life Goes On' from their EP 'BE' (Deluxe Version), the Grammy-nominated septet celebrates their second English single, calling it 'summer song of the year'.
The music video already had over 3.89 million concurrent viewers ahead of the release and within an hour, it had surpassed 21 million views. Now, it has amassed over  55 million views on YouTube again in 10 hours & 16 minutes surpassing the record of 'Dynamite'. An hour after the release of the music video, BTS held a press conference in Seoul – both in-person and virtual for global media to discuss their new music, tapping into a new sound, their fandom ARMY, the future of their music, and more.
"Actually, the song doesn't deliver some kind of in-depth message. Rather, it's an adorable, easy-on-the-ears love song that delivers a sweet message of 'I'll melt your heart into two, smooth like butter,'" Jimin said at the press conference when asked about their new single.
Since 'Dynamite' had clinched at No. 1 Billboard Hot 100 chart, the expectations are high from the seven-piece act.
Suga, who is also called 'Minstradamus' for his future predictions for the group which have come true, said that they are hopeful for another No. 1 on Hot 100. "No. 1 on the Billboard Hot 100… I think we can do it," he said. "I think it'll make it. Moreover, we will vie for the Grammys again with 'Butter.' We hope to yield a good result."
A range of musicians including Rob Grimaldi, Stephen Kirk, Ron Perry, Jenna Andrews, Alex Bilowitz, and Sebastian Garcia have lent their hands in writing the song. Leader RM also partook in the making of the track to add in the signature BTS style. When asked what was the process of making the song since he participated in the making as well, he said, "When we received the song, we felt that its rap part needed some arrangement that could match our own styles. Suga, J-hope and I all have different colours so I really tried to highlight these differences So me, Suga, and J-Hope got to participate in rewriting the verses. It was a competition, and I got lucky enough to get selected." RM emphasized that he didn't just participate because he is fluent in English but he was lucky enough to be a part of it.
Suga jokingly added, "We always compete with each other when it comes to songwriting. I'd actually studied English in order to write for 'Butter,' since it's an English song, but yeah, I failed mercilessly."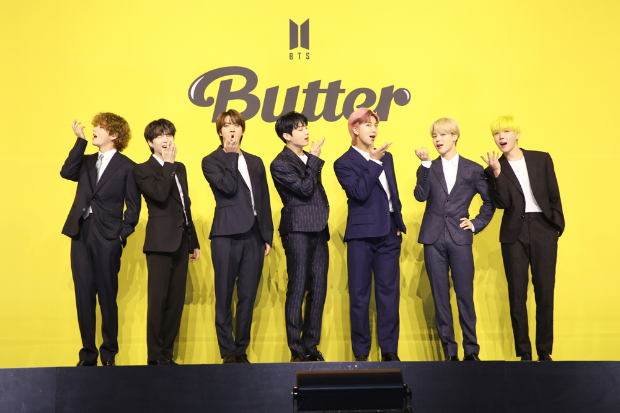 Interestingly, the elevator part in the music video is free-style just like they had in 'Dynamite' as well. "In the music video for 'Butter,' there's a scene where all seven of us dance within an elevator in our own freestyle, which was done spontaneously. People will be able to enjoy the individual charms of each member," V explained.
'Butter' is a dance-pop track that easily becomes listeners' favorite earworm, with its distinctive baseline and crisp synth sounds. Sometimes smooth and at times charismatic, the duality of BTS they claim to "owe [it all] to [my] mother" will melt listeners' hearts. The fun and witty lyrics brimming with positive and bright energy will instantly uplift moods.
Jungkook said that the song is very addictive. And he is right! "'Butter' is a very fun song, very lively," he said on Friday. "The melody too, it's very addictive."
J-Hope said the vibe of the song is energetic. "'Butter' is really energetic and cute, so the performance tries to reflect those emotions," he said. He said that the unit choreography is unique and fun.
Though BTS was nominated for Grammys 2021, RM mentioned how they value and cherish what they want to say through their message. Their core value remains the same. He said, "Our biggest concern is, obviously, our future. What would be our function in this new-normal era? What's the meaning of our existence? For whom do we do music? What's as important as the Grammys is how we are going to realize our value and remain meaningful."
Speaking of BTS, they will be celebrating their eighth anniversary on June 13 and like every year, FESTA, a celebration, is planned. Talking about their debut anniversary, V said, "It's a meaningful eighth anniversary but it's a shame in part. We have the Festa upcoming for ARMY but it'll be done online. Plus, there're many stages that we couldn't share. It's sad that so many events are held without Armys on-site. But still, we'll try our best."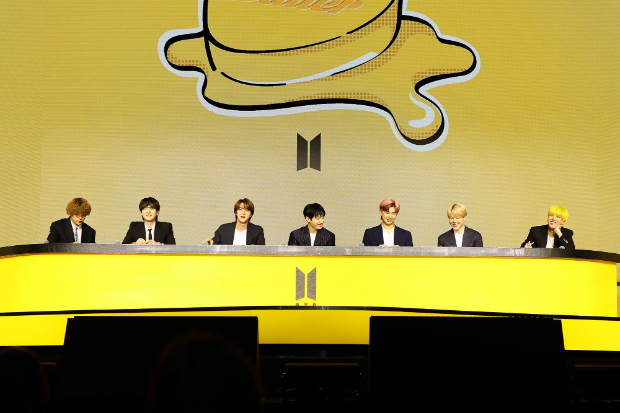 BTS had to cancel their stadium world tour Map Of the Soul Tour last year amid the pandemic. Reflecting on the same, J-Hope mentioned how they cherish simple things including the power of music after what they felt last year. "Music was at the center of everything. It was the breakthrough in difficult and anxious times and what brought us all the happy moments," he mentioned. "We really felt the huge power of music. I hope to make more music like that and spread the good energy to others."
RM reflected the same sentiment and further said, "From our debut days, we've always held meetings with our company to convey our own thoughts and feelings ahead of making new albums, which was our effort to find a balance between what we wanted to express and catching what listeners wanted from us. And we came to the conclusion that every single song we've released, including 'Butter' and upcoming projects, has been, and will be, our best answer at the moment."
"There was a time when I performed in front of only two people when I started music back in my hometown, Daegu," recalled Suga about his debut days and how things have changed for him and BTS. "It was the moment I realized that I should do music for those who listen to my music. I've experienced how much it hurts to do music listened to by no one, and now that we are receiving so much love, doing music for our fans is quite obvious for me. I think that's what musicians should do."
This is only the beginning. The band will perform 'Butter' for the first time at the upcoming Billboard Music Awards on May 23. They are nominated for four categories at this year's award – Top Duo/Group, Top Song Sales Artist, Top Social Artist and Top Selling Song. BTS is also kicking off Good Morning America's Summer Concert Series on May 28.