Ayushmann Khurrana is known to have scripts that are not only out of the box, but also the kind that will make you want to watch more of him on screen. The actor recently gave two massive hits, Andhadhun and Badhaai Ho. With both the movie doing amazingly well at the box office, Ayushmann Khurrana couldn't be happier for his success and the love he received for his work. Not only does he act well, but he also sings, plays the keyboard like a pro, and dances well. He is an all-rounder and his good looks with those dimples are just a bonus for us!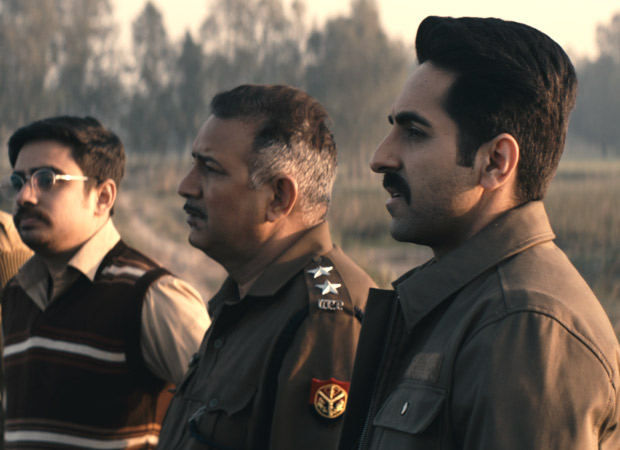 After completing the shooting for Dream Girl, where he will be portraying the role of a guy who plays the role of Sita in Ram Leela, he is currently shooting for Anubhav Sinha's upcoming film. The film is titled Article 15 and Ayushmann will be playing a cop in the film. His character has a moustache and looks very dapper in the police uniform. While he is shooting, this one incident is bound to be etched in your mind forever. The actors were required to shoot in a swamp for a crucial scene in the film and it was only half way through the scene that they realised how bad this idea was. Turns out, the swamp was infested with leeches!
Ayushmann tweeted the whole incident and we can't help but be in awe of his dedication. He posted a picture of his co-stars with text in it that said, "Today was a true test of my love for my craft. We are in the middle of shooting Article 15, being directed by the super talented Anubhav Sinha. Yesterday, we had a challenging day – a shot required us to enter into a swamp and do a gripping scene. We realised that the swamp was filled with leeches only when we were in the middle of the shot! I would like to salute my brave team of investigative officers (it's an honour to act with these talented actors) for finishing the scene despite a vicious leech attack! Anubhav Sinha hum aapke liye khoon bahane ko tayaar hain."
#Article15 pic.twitter.com/L0NmhF3ET7

— Ayushmann Khurrana (@ayushmannk) March 15, 2019
Ayushmann is right though, Anubhav Sinha's crew is ready to shed blood for him and it shows! The crew is currently shooting in Lucknow and plan to complete the shoot by the first week of April.
Also Read: Anubhav Sinha opens up about Ayushmann Khurrana essaying the role of a police officer in Article 15