English singer-songwriter Adele is back with the release of her first single in five years 'Easy on Me.' With the track, Adele also dropped a music video on October 14.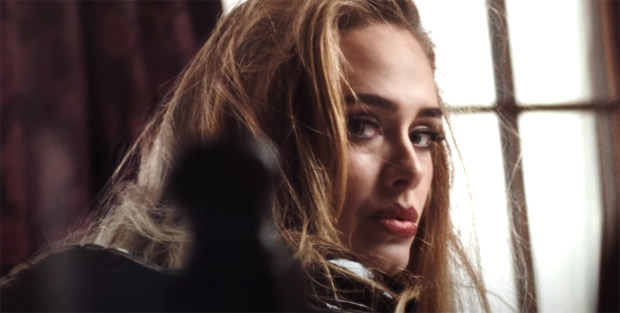 The black-and-white music video of the piano ballad begins withAdele driving away from an empty house with a "Sold" sign in the front yard. Though by the end of the clip, she's in full technicolor as she belts the song in a room swirling with loose sheet music.
A week prior to the song's release, Adele shared a snippet of the track,in an Instagram Live session where she's heard singing the lyrics from the track, "There ain't no gold in this river/ That I've been washing my hands in forever/ And there is hope in these waters/ But I can't bring myself to swim when I am drowning in this silence/ Baby, let me in."
The 33-year-old superstar's previous projects 19, 21 and 25,  all reached the top five on the Billboard 200, with the latter two hitting No. 1. Her last album, 25, spent a staggering 10 weeks at No. 1 on the Billboard 200 and earned the album of the year Grammy, selling 3.38 million copies in its debut week — the biggest sales week for an album since MRC Data began tracking point-of-sale purchases in 1991.
30 – November 19 pic.twitter.com/vp6ornlda2

— Adele (@Adele) October 13, 2021
On October 15, Columbia Records also shared that 'Easy On Me' became the most-streamed song in a single day on Spotify.
'Easy On Me' is the lead single from Adele's highly anticipated fourth studio album 30, which is due November 19.
Also Read: Adele releases upcoming single 'Easy on Me', watch