There's a reason why Bollywood personalities are termed as 'cultural ambassadors'. Our films travel far and wide and have impacted generations of foreigners since time immemorial. Moreover, our Indian viewers, too, get influenced by cinema heavily. Besides sporting hairstyles or wearing similar kind of costumes as our favourite actors, we also love visiting places shown in films. Some decades ago, Switzerland became a hot destination after Yash Chopra shot many films there. The European country saw a sharp rise in India tourists thanks to films like Chandni, Darr, Dilwale Dulhania Le Jayenge etc. The government of Switzerland honoured the late filmmaker and many times and even named a train after him!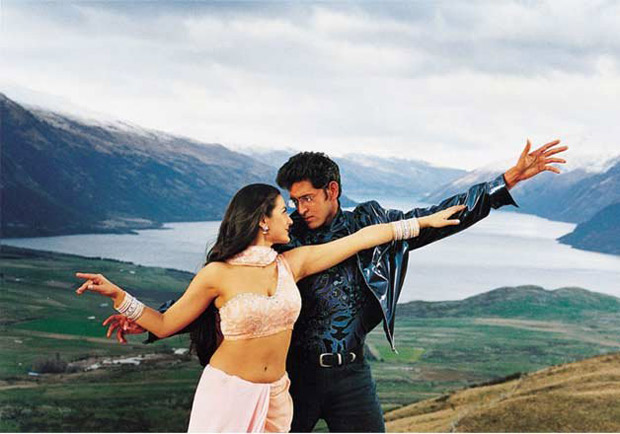 What Yash Chopra is to Switzerland, Rakesh Roshan is to New Zealand! The blockbuster director-producer shot a major chunk of his unforgettable entertainer, Kaho Naa Pyaar Hai, in this tiny country. The song 'Na Tum Jaano Na Hum', picturised on the lead actors of the film, Hrithik Roshan and Ameesha Patel, especially showed the country and its breathtaking locales in all its glory.
On the occasion of 20 years of Kaho Naa Pyaar Hai, Rakesh Roshan, in an exclusive interview to Bollywood Hungama, opened up as to how he zeroed in on New Zealand. He explains, "I went to Australia first but was not satisfied. I came back to Mumbai when someone remarked, "New Zealand jaana chahiye tha, bahut acha tha". And I am like, "Main Australia tak jaa ke aaya aur New Zealand reh gaya". So I flew again; this time to New Zealand. I visited Queenstown where I shot the film. It was one of the most fabulous places in the world. Even today, if somebody tells me to go for a holiday, I'd choose that place!"
He adds, "Kaho Naa Pyaar Hai was the first Hindi film to be shot there and after its release, the tourism shot up in that country. I even got a certificate from the Prime Minister Helen Clark in 2004." Rakesh Roshan, in a lovely gesture, showed the certificate to this writer and even graciously allowed for its picture to be taken.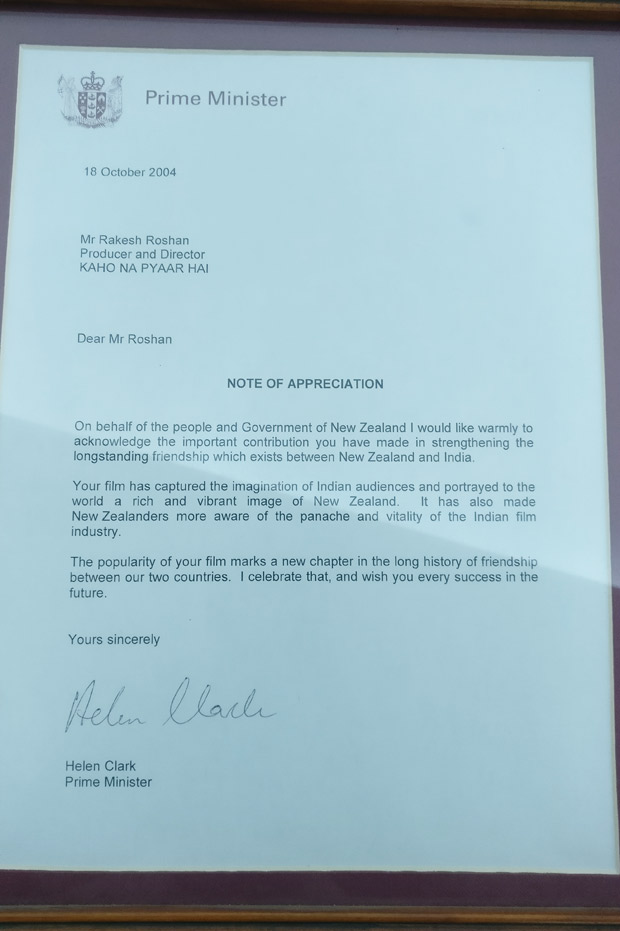 A look at the certificate can't help but give you a heart-warming feeling. Helen Clark appreciates Rakesh Roshan for the "important contribution he made in strengthening the longstanding friendship" between the two countries. She remarks that "your film captured the imagination of Indian audiences and portrayed to the world a rich and vibrant image of New Zealand" and also adding that even the local residents were "made aware of the panache and vitality of the Indian film industry." Lastly, she makes an important statement that the popularity of Kaho Naa Pyaar Hai "marks a new chapter in the long history of friendship between our two countries".
So how huge was the rise in tourism post its release? The figures themselves speak. A 2001 article in The Telegraph states that a year before Kaho Naa Pyaar Hai released, a mere 2,000 tourists visited New Zealand from India. But after 'Hrithik mania struck', the figure rose to 15,000! Also, from 900 students seeking Kiwi degrees in 2000, the number increased to 1,500 the following year.
Somewhere in 2006/2007, Peter Healy, the New Zealand High Commission in Delhi made some startling confessions. He stated that the demand for New Zealand visa became so huge that the existing infrastructure was found to be inadequate. Hence, the existing 2000 feet immigration and visa office of New Zealand was extended by another 8000 square feet, to handle the steady pile of applications! Peter also said, "We call this this additional area the 'Hrithik Addition'! In fact, we invited Hrithik Roshan to open the building, but unfortunately he was away abroad." Not just that, the high commission office had to also employ 8 more people, totalling its staff strength to 16. Peter Healy jokingly remarked, "These employees owe their jobs to Hrithik!"
Not just tourists, even the various film industries of India woke up to the untapped beauty of New Zealand. After the release of Kaho Naa Pyaar Hai, Abhishek Bachchan-Rani Mukerji starrer Bas Itna Sa Khwaab Hai, Arjun Rampal-starrer Pyar Ishq Aur Mohabbat, Govinda-Urmila Matondkar starrer Kunwara etc. too followed suit. In fact, The Telegraph article states that some 70 Indian film crews toured to the picturesque country and most of them were South productions. Peter Healy was also heard saying that the New Zealand Trade Development Board has a full-time employee to network with directors and producers and that "Dancing on the streets of New Zealand is common nowadays"! The cost factor also worked well for our producers. Reports stated that shooting in this nation cost one-fourth the amount of Europe. That it had clear skies, sprawling mountains and sandy white beaches all in one place also was also a major factor.
The success of the 'Hrithik factor' was also noticed by other countries. Singapore Tourism then also jumped in the bandwagon. They made a deal with Rakesh Roshan to shoot 60 per cent of his 2006 blockbuster Krrish in Singapore. As for New Zealand, the number of tourists kept increasing with each passing year after Kaho Naa Pyaar Hai. It stabilized a bit but again saw a 13% jump in 2011, when 30,000 visitors came to the country. Again, this feat had a filmy connection – the spike happened after the release of the 2010 hit rom-com, I Hate Luv Storys, starring Imran Khan and Sonam K Ahuja. The second half had two songs filmed here and also some important scenes, which once again reminded Indians about the beauty of this country.