1. In a blockbuster year when the biggest Bollywood badshahs burst onto the big screen, this film with two new heroines and Akshay Kumar helds its own. Andaaz was one of the biggest grossers of 2003. This was the year of Karan Johar-Akshay Kumar's Kal Ho Na Ha, Raj Kumar Hirani's Munnabhai, Rakesh and Hrithik Roshan's Koi…Mil Gaya and Amitabh Bachchan-Hema Malini-Ravi Chopra's Baghbaan. Andaaz became a huge hit amidst the formidable competition.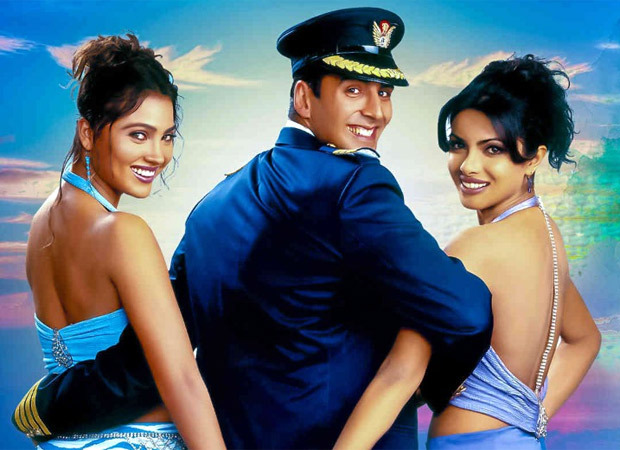 2. Contrary to what is widely believed, Andaaz was NOT directed by Suneel Darshan but the late and much-missed Raj Kanwar (who died suddenly in 2012 at age 50). Suneel who produced Andaaz recalls, "Raj came to me with this concept of a modern love triangle about an air force pilot and the two women in his life. I loved it. I immediately greenlighted the project."
3. Raj Kanwar was known to deliver hits throughout his career. Deewaana, the film that made Shah Rukh Khan an overnight superstar was directed by Kanwar. So were the two big Sridevi hits Laadla and Judaai. With Akshay Kumar and his wife Twinkle Raj did two films each. Andaaz was a dream come true for Akshay. He wanted to be an air force pilot in real life.
4. The big USP of Andaaz was the two new heroines Miss Universe Lara Dutta and Miss World Priyanka Chopra. The clash of the two sirens was highlighted in all the publicity when in fact the two ladies got along like a house on fire. "There was never any rivalry between them. They were not great friends. But they liked and respected one another. That whole rivalry was media made marketing manufacture," reveals Suneel Darshan. Both the debutantes had equally well-defined roles. Both were expected to become superstars. But Priyanka raced ahead. "She was definitely the more ambitious between the two," says Suneel.
5. Andaaz was Suneel Darshan's sexiest production ever. He chooses to see it as 'sensuous'. Both the ladies, especially Priyanka were made to do a lot of skin show. As a matter of fact even Akshay who abhors body show was seen in skimpy clothes. Priyanka later admitted to me, 'Thoda zyada ho gaya.' She did two other films with Akshay. But rumours about them nixed her pairing with Akshay. In an interview to me in 2004 Akshay had spoken about the rumours. He said, "Why should I let such loose talk affect me? Everyone knows who's instigating it. The target isn't me but Priyanka. I just got caught in the crossfire. Now that the newspaper, which wrote about a public fight between me and my wife in Goa, has very graciously admitted that their information was wrong, the truth is out in the open. My family life remains untouched by these malicious elements. I'd rather concentrate on my career than get into these useless controversies.' Andaaz apna apna.